- entertaining but informative presenter and writer on the world of wine
The Boursot Background in Wine
It would be hard to find many other families that have for so long been associated continuously with wine. In the 16th century a Boursot who lived at Dijon owned vineyards nearby at Chambolle-Musigny and to this day the Boursots continue to own vineyards and make wine in this famous village in Burgundy's Côte de Nuits.
In 1792 a new branch on the family tree was started by one young Claude Boursot who left his family village to enlist in the Artillery Regiment at Auxonne. There he became a close friend of one young Napoléon Bonaparte and they fought alongside each other through the Italian campaigns as well as through the French Revolution. More relevant perhaps is the fact that Napoléon and Claude travelled frequently to the Champagne area and made many friends there: they liked champagne!
Claude Boursot became particularly friendly with the Perrier family of Champagne Perrier-Jouët in Epernay and Claude's son started selling exclusively his friends' champagne in the United Kingdom.
Perrier-Jouët, the prestigious Grande Marque Champagne established in 1811, thence continued to be handled by the Boursot family for all of 130 years. A. Boursot & Co. sold 70% of Perrier-Jouët's annual production of one million bottles: an enormous volume in England even by today's standards. Perrier-Jouët was found in all the best establishments and gained several Royal Warrants. The Wine & Spirit Trade Review wrote in 1935 that "Perrier-Jouët has attained world wide repute but it was England which gave it the first impetus and laid the foundations of its wider success".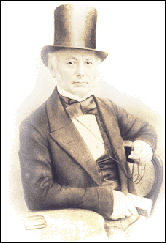 Adolphe Boursot 1804 - 1871
The Boursot business continued to grow and prosper to become the most successful champagne importer of its day. One "first" attributed to the Boursot/Perrier-Jouët association is that in around 1868 it made the experiment of shipping dry champagne to London and thereby started a fashion that the whole world has since adopted. Another curious "first" was that Adolphe Boursot suggested to Perrier-Jouët that it would be a good idea to put a label on the bottle - until then the brand had been only on the cork. Now you know the origin of the words "brand marketing"!
In 1921, A. Boursot & Co. took on another important agency: for the liqueur Bénédictine D.O.M. During the 2nd World War the Boursot offices in London's Saint James's area were destroyed by a German bomb and so the company was forced to merge with another well-known family business Brooks Bodle & Co. which was agent for J. Calvet & Co of Bordeaux and Beaune, as well as Williams & Humbert sherries. Conjoined, these two companies presented a formidable portfolio: Champagne, Bordeaux, Burgundy, Liqueur, Sherries - and others.
The current generation in this continuous family line is represented by Guy Boursot who worked for 17 years at the highly respected Berry Bros & Rudd Ltd of Saint James's in London, both buying and selling wines but left them in order to rekindle his family's old wine business which he ran for 11 years as a wine wholesaler in and around London. This was then floated on the London stock market in 2000.


Guy Boursot
In 2001 Guy relocated to northern France, from where he can easily access the vineyards of Europe or talk to audiences wherever they may be. He also advises British and French companies and individuals on various different aspects of wine. And since 2004 he has become a wine writer as well as developed a vineyard tours company. In 2006, with the benefit of his various experiences, he set up a wine shop "Boursot's Wine Collection" in the historic French town of Ardres near Calais, where people can receive reliable wine advice from the trained staff, and where they can taste and buy good dependable wines at the most attractive prices.
Guy is a member of the Worshipful Company of Vintners as well as a member of the Circle of Wine Writers, and he writes articles for magazines and websites. He has given well in excess of 1,000 wine talks and has also appeared on both radio and television.
Guy Boursot is an expert who runs a wide selection of wine businesses and as a result of his heritage and his own experiences, Guy's three most requested topics for his talks are Bordeaux, Burgundy and Champagne.
Champagne Perrier-Jouët and the Boursot family
---